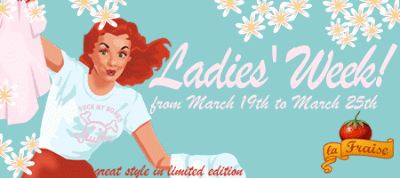 As you may know, March 8th was Women's Day. However at laFraise.com, we believe that one day is far from being enough! A week-long tribute would be a thousand times better !
So from the 19th to the 25th of March, the biggest European t-shirt design competition will be all about girls: we invited our illustrators and graphic designers to think-up woman oriented t-shirts.
Our Women's week does not only consist in this design competition: numerous initiatives, surprises and interviews will enrich these seven days dedicated to the ladies.
On the menu of Women's Week:
- Every day: image-laden portraits of Female bloggers and geekettes showing-off their favourite designer object.
- Shopping guide: the best fashion and design shops on the web.
- Every other day, one of the winning designs will be announced and made available right away in the shop.
As well as surprises and fun competitions.
So, we will be happy to see you on
www.laFraise.com
:)
About laFraise :
laFraise.com is Europe's largest t-shirt design contest. Everyday, hundreds of talented designers and illustrators submit their creations that are rated - praised or flamed - by our thousands of members. The winners are awarded 1000 euros and their designs get printed in a 500 t-shirt limited edition.
Best, Mike